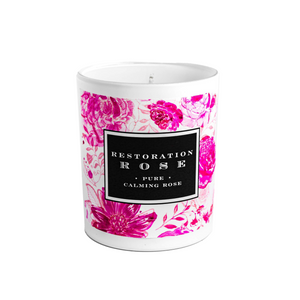 Restoration Rose
Pure Rose Calming Luxe Candle PRESALE SHIPPING LATE NOVEMBER
Regular price
$36.00
Sale price
$42.00
Create an atmosphere of peace and well being with a sophisticated blend of garden rose, green tea and lemon. Not too sweet. Appealing to both men and women. This candle will fragrance your entire home and transform it into your own tranquil rose garden. 

Our hand-painted design on a paper label gives a slight blush glow when lit. 
Hand-poured. Soy blend, eco Wick. 12 ounces. Burn time approximately 80 hours.

When lighting for the first time, burn for an hour or so to create a circular wax pool the same circumference as your candle. Scent comes from the wax pool and this initial burn will create a "memory" in the wax. Trim wick to 1/4" after each burning and do not burn for more than 3 hours at a time without extinguishing. If the wick smokes remember to trim it.

Stop burning when 1/2" wax remains at bottom. 

SAFETY: This is a candle. It is fire in a jar. It gets hot. You're smart. 

Act accordingly.
---
More from this collection